The Master's Touch Chorale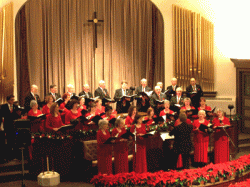 The Master's Touch Chorale is a choir of 44 dedicated Christian singers, from some 28 churches of 17 denominations, who are united by their common faith in Jesus Christ as Savior and Lord and by His calling to spread His Good News in the ministry of music. The singers, from many communities, professions and walks of life, meet every other Sunday evening throughout the year to rehearse and pray together, or to concertize to the glory of God.

Founded in April of 1993, The Master's Touch is now in its 25th year of ministry under the musical direction of Warren Ottey, who also serves as Music Director and Organist at the Episcopal Church of St. Mark the Evangelist in Syracuse, NY, as well as Music Director of the new CNY Voices choral ensemble. During its tenure of ministry, The Master's Touch Chorale , which charges no fee, but concertizes on faith, has sung in many churches and at community events over a wide geographical area; and we are always open to singing in new venues, as requests are received.

Three such invitations, truly gifts from the Lord, were from The White House, 1600 Pennsylvania Avenue, Washington, D.C., where The Master's Touch Chorale was privileged to sing concerts in December 21, 2002, December 20, 2004 and December 22, 2008.

The Master's Touch Chorale is a faith ministry! Featuring a menu of Christian music ranging from Beethoven to Bluegrass, The Master's Touch Chorale strives to please the musical palate of every listener in every concert. More important, the Chorale seeks to lift up and magnify the Lord Jesus Christ, and to bring every listener closer to Him, that we together may experience a deeper sense of His forgiveness, His unconditional love, and His power and victory!



We acknowledge: That we have all sinned and come short of the glory of God.
That we have all received Jesus Christ as our personal Savior and Lord.
That if we confess our sins, He is faithful and just to forgive our sins and to keep on cleansing us from
all unrighteousness.
That, in the power of the Holy Spirit, we seek to live daily as Jesus would have us live; and we also seek
to bring others to Him through our witness: that we have been with Jesus!
That being touched personally by our Master, Jesus Christ, and having been given the gift of music,
we have accepted His call to sing His wonderful Gospel wherever He leads us to minister!
---